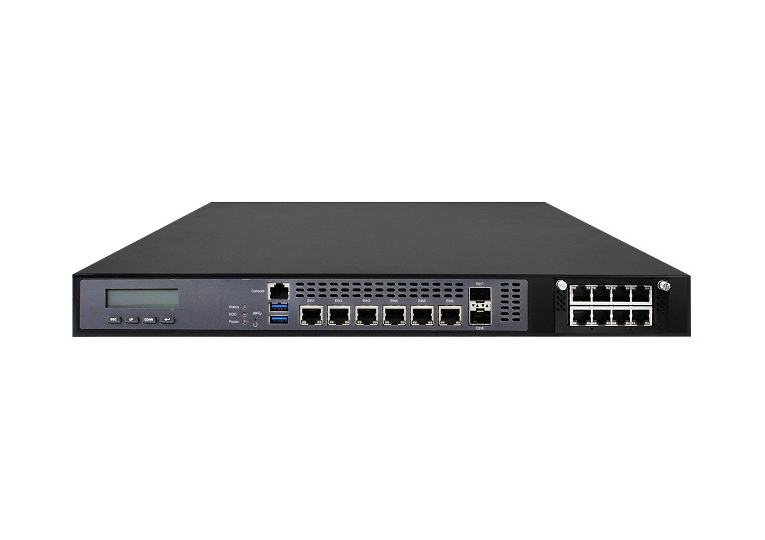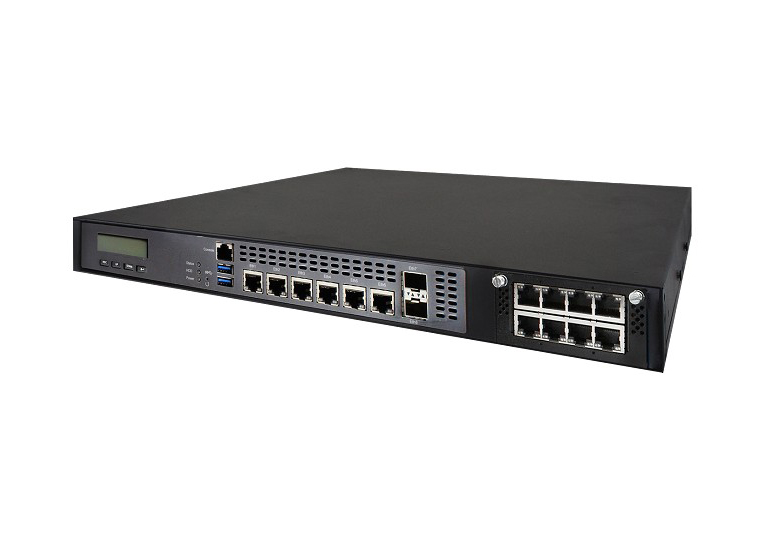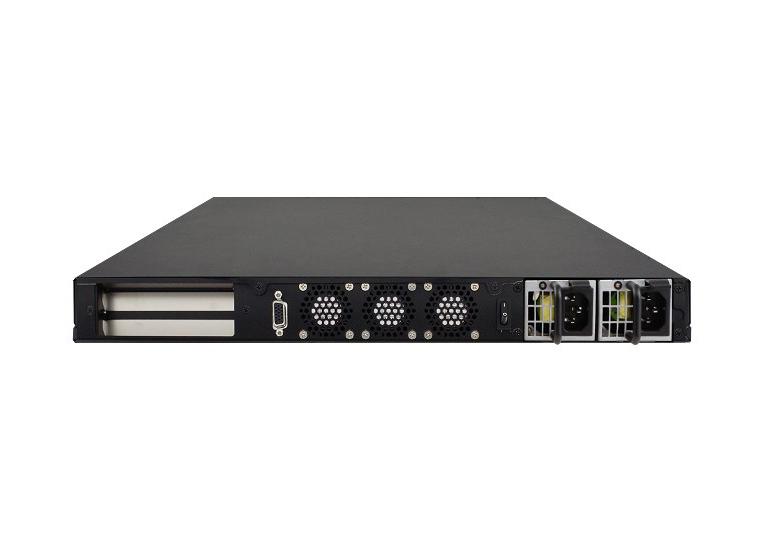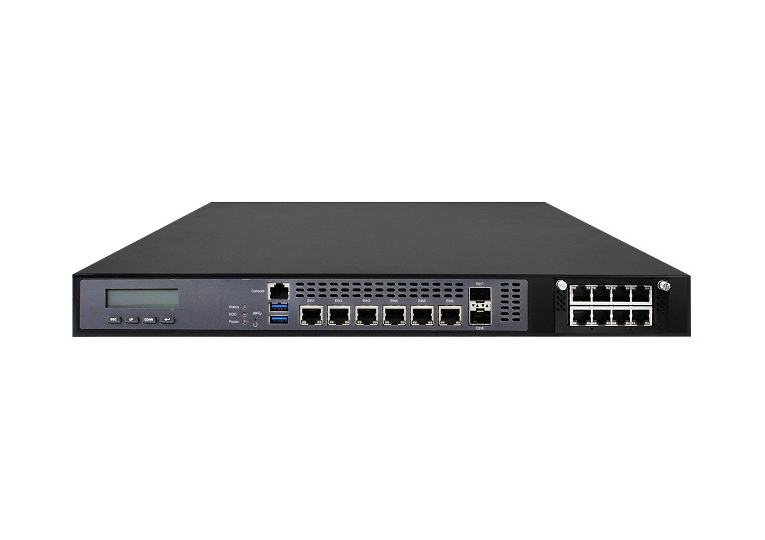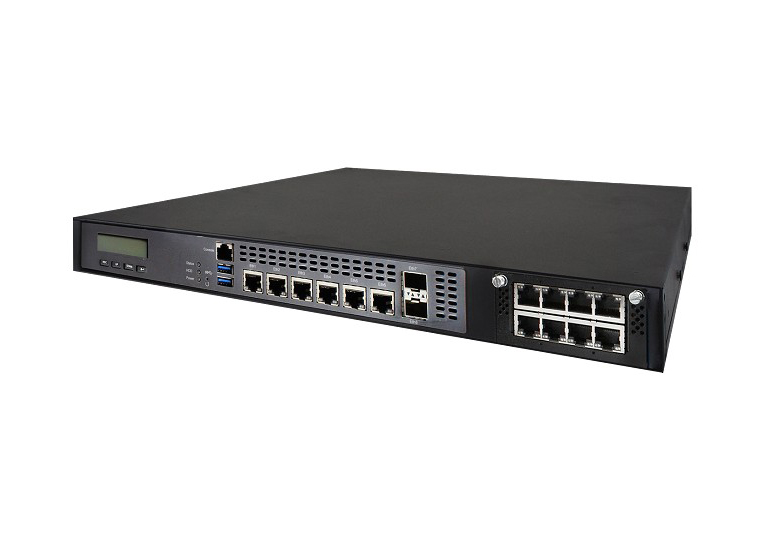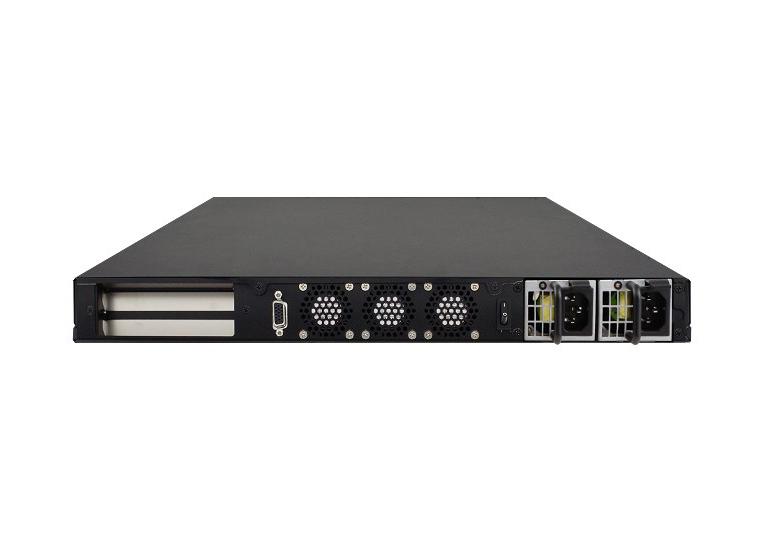 Network Appliance
FWA8708
Enterprise 1U Network Appliance with 9th or 8th Gen Intel® Xeon® / Core™ i7/i5/i3 Processor & up to 16 GbE Ports
9th or 8th Gen Intel® Xeon® / Core™ i7/i5/i3 Processor with C246 or H310 PCH
6x RJ45 GbE + 2x SFP GbE on board
4x or 2x DDR4 DIMMs; Max. 64GB (ECC/non-ECC)
Optional IPMI 2.0 module (for FWA8708-C only)
Optional NIC slot (for FWA8708-C only)
1x Mini PCI-E slot
1x M.2 slot (for FWA8708-C only)
The FWA8708 is a 1U rack-mountable network appliances based on the 8th Generation Intel® Xeon®/Core™ Processors to provide high scalability and performance for firewall, VPN, UTM, load balancing and network security applications in SMB and large enterprise environments. The FWA8708 comes in two versions: FWA8708-C powered by the Intel® C246 and FWA8708-H with the Intel H310 chipset.
The FWA8708-C has four DDR4-2666 modules to support up to 64GB of system memory and onboard 6x Intel® i210 and 2x i210S Ethernet controllers with 8 GbE ports and optional IBN cards (IBASE proprietary network interface card) to support up to 8 additional GbE ports; while FWA8708-H fits up to 32GB of RAM and is equipped with 6x i211AT controllers combined with six Gigabit Ethernet ports. Standard configuration consists of 6x GbE ports and two SFP ports for hot-swappable input/output, featuring speeds of up to 1Gbps and long-distance transmission ranges. The FWA8708 network appliance is significantly more flexible and easily upgradable, allowing implementation of third-party software in SDN, SD-WAN, NFV and VNF architecture and technologies.

The FWA8708 delivers rich I/O connectivity and expansion. It offers two PCIe and a Mini PCIe slot for high density PCIe payloads and an M.2 expansion slot to interface with SATA 3.0 and PCIe x4 bus for high data throughput. Other connectors available that are useful in most networking applications include two USB 3.0, VGA via headers, and an RJ45 serial console with LCM display for easy operation.

CPU
FWA8708-C/CR: LGA1151 socket for 9th or 8th Gen Intel® Xeon® / Core™ i7/i5/i3 processors
FWA8708-H/HR: LGA1151 socket for 9th or 8th Gen Intel® Core® i7/i5/i3 processors
Chipset
FWA8708-C/CR: Intel® C246 PCH chipset
FWA8708-H/HR: Intel® H310 PCH chipset
Memory
FWA8708-C/CR: 4x DDR4 DIMMs, up to 2666MHz, Max. 64GB UDIMM (ECC or non-ECC)
FWA8708-H/HR: 2x DDR4 DIMMs, up to 2666MHz, Max. 32GB UDIMM (Non-ECC)
Display
1x VGA via pin-header
1x LCM
Ethernet
FWA8708-C/CR:
On board: 6x Intel® I210AT + 2x Intel® I210IS GbE
NIC module slot: 1x IBN card, Max. 8x GbE
FWA8708-H/HR: On Board: 6x Intel® I211AT GbE
Bypass
2x segment, LAN3/4 & 5/6
Expansion
FWA8708-C/CR:
1 or 2x PCI-E slot on rear panel
1x Mini PCI-E slot (PCI-E, SATA signal)
FWA8708-H/HR: 1x Mini PCI-E slot (SATA signal)
IPMI
Optional module, compliant with IPMI 2.0
Storage
2x 2.5" or 3.5" SATA drive bay
1x M.2 slot (M-key 2280, PCI-E x4 & SATA signal)
TPM
TPM 2.0
I/O
3x LED (Power / HDD / Status)
1x Factory default button (GPIO)
1x RJ45 console
2x USB 3.0
1x MGMT (LAN1 share with IPMI NC-SI port)
Power Supply
Full range 250W ATX power supply or 300W 1+1 Redundant power supply
Dimensions
438 mm (W) x 422 mm (D) x 44 mm (H)
17.24" (W) x 16.61" (D) x 1.73" (H)
Weight
9.0 kg (19.84 lbs)
Operating Temperature
0°C ~ 40°C (32°F ~ 104°F)
Storage Temperature
-20°C ~ 70°C (-4°F ~ 158°F)
Operating Humidity
5% ~ 90%
Certification
CE/FCC
FWA8708-C
1U Rackmount Appliance, MBN805C 9th or 8th Gen Intel® Xeon® / Core™ i7/i5/i3 Processors, C246 PCH, 4x DDR4 DIMMs, Max. 16 GbE Ports, 250W PSU, CPU Cooler, optional IPMI, Barebone without RAM/HDD/ Drive Bay Kit/IBN Card
*Must Order Component BOM
FWA8708-CR
1U Rackmount Appliance, MBN805C 9th or 8th Gen Intel® Xeon® / Core™ i7/i5/i3 Processors, C246 PCH, 4x DDR4 DIMMs, Max. 16 GbE Ports, 300W RPSU, CPU Cooler, optional IPMI, Barebone without RAM/HDD/ Drive Bay Kit/IBN Card
*Must Order Component BOM
FWA8708-H
1U Rackmount Appliance, MBN805H 9th or 8th Gen Intel® Core™ i7/i5/i3 Processors, H310 PCH, 2x DDR4 DIMMs, Max. 6 GbE Ports, 250W PSU, CPU Cooler, Barebone without RAM/HDD/Drive Bay Kit
*Must Order Component BOM
FWA8708-HR
1U Rackmount Appliance, MBN805H 9th or 8th Gen Intel® Core™ i7/i5/i3 Processors, H310 PCH, 2x DDR4 DIMMs, Max. 6 GbE Ports, 300W RPSU, CPU Cooler, Barebone without RAM/HDD/Drive Bay Kit
*Must Order Component BOM