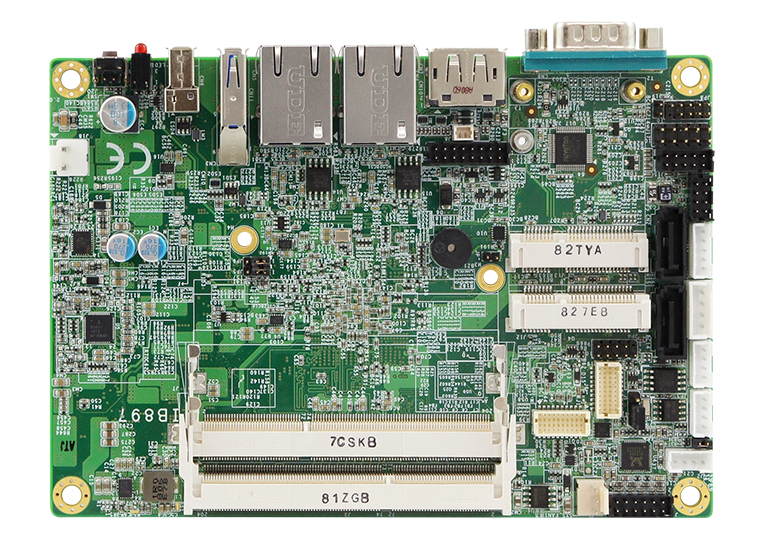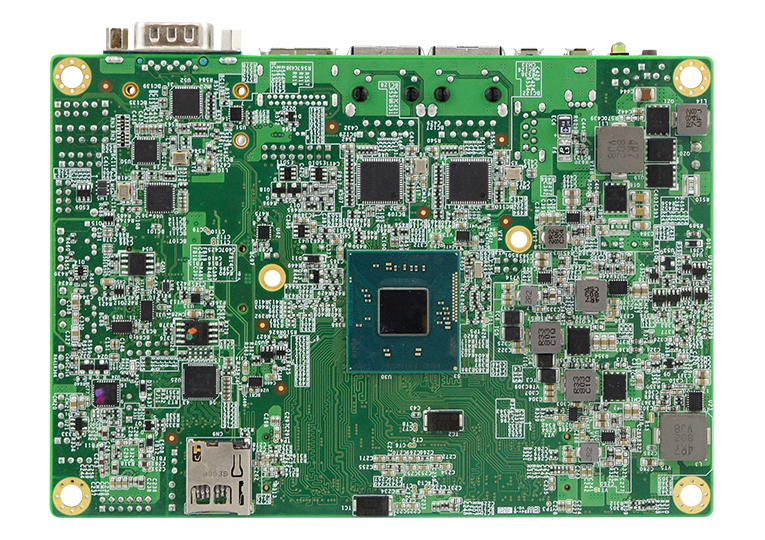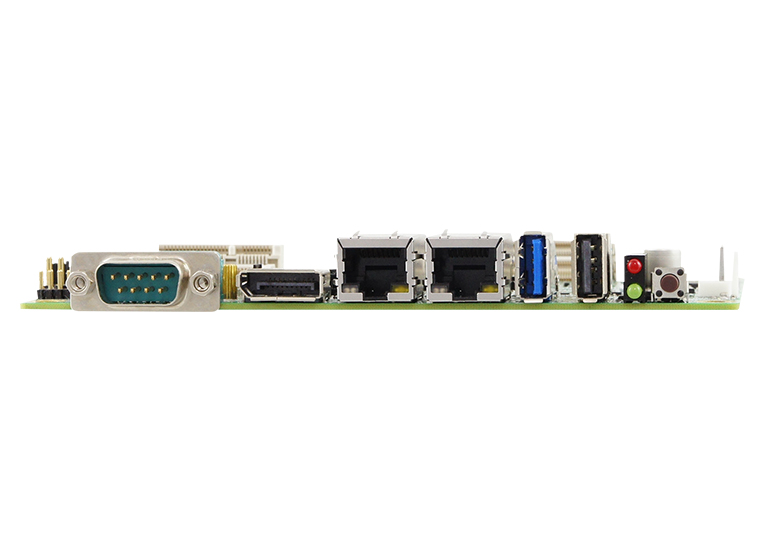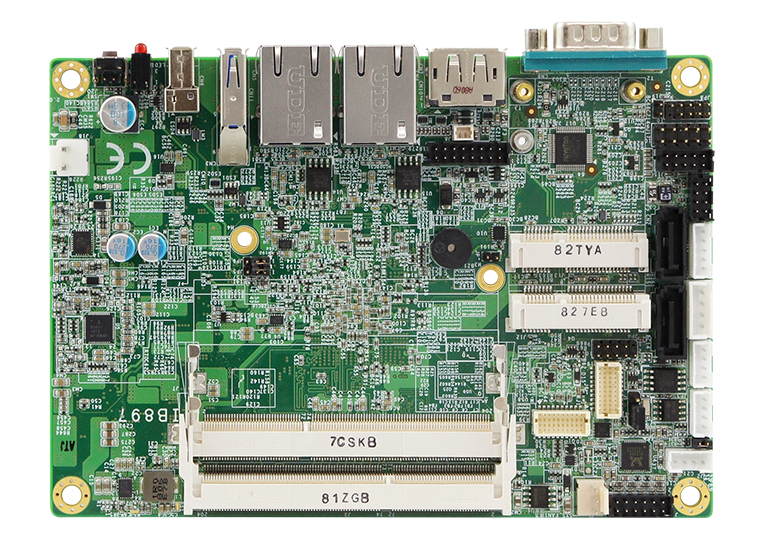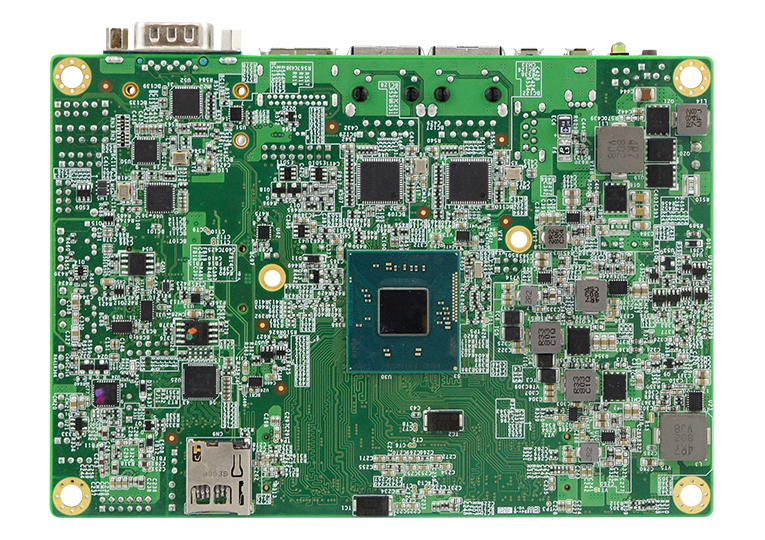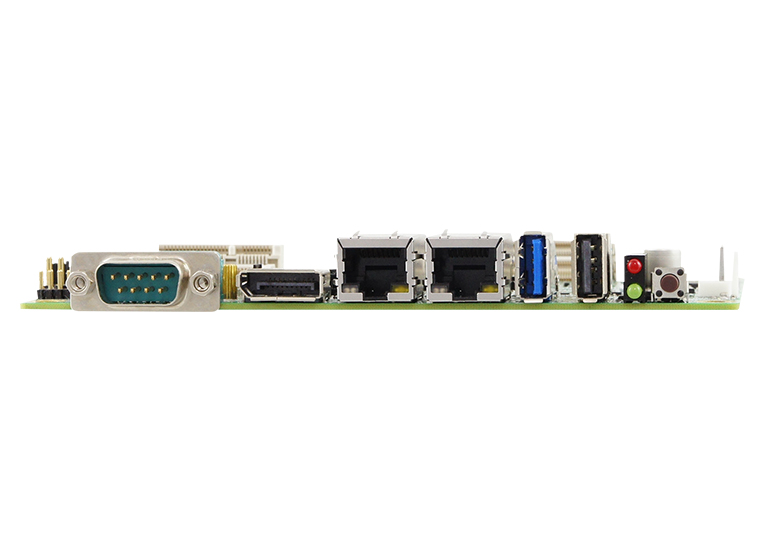 Embedded Computing
IB897
Intel® Atom® Processor E3800 Series 3.5" Single Board Computer
Onboard Intel® Atom® E3845/E3827/E3815 SoC, 1.91GHz/1.75GHz/1.46GHz
2x DDR3L-1333 SO-DIMM, Max. 8GB
Supports VGA, DisplayPort and 24-bit dual channel LVDS
2x Intel® I210IT PCI-E Gigabit LAN
Watchdog timer, Digital I/O, mSATA, iSMART
3x USB2.0, 1x USB3.0, 2x COM, 2x SATA II, 1x MicroSD slot
2x Mini PCI-E slots (1x full-size, 1x half size)
Wide-range operating temperature
The IB897 3.5-inch disk-size single board computer is based on the latest generation of Intel® Atom® processors. The IB897 integrates the 22nm quad-core Intel® Atom® E3845 processor that features 1.91GHz clock speed, 10-Watt power consumption, and a 2MB L2 cache. The board delivers much higher level of processing and graphics performance than previous generation Atom SBCs, while consuming minimal power consumption.
Designed for applications including interactive kiosks, digital signage, ATM machines and POS terminals, the IB897 supports high resolution displays to provide stunning media experience by using the Intel® Atom's Gen7 GPU with burst technology. It offers one DisplayPort port, one VGA CRT and 24-bit dual channel LVDS connectors. Versatile I/O functions include two GbE ports, two COM ports, one USB 3.0, three USB 2.0, two SATA II ports, two Mini PCIe and a Micro SD slot.

The IB897 supports an operating system temperature ranging from -40°C to 85°C and iSMART, IBASE's green technology with EuP/ErP power saving, auto power on/off scheduler and power resume functions. The IB897 is also available with the 1.75GHz dual-core Intel E3827 Atom processor and up to 8GB 1333MHz DDR3L memory capacity.

CPU
Intel® Atom® QC E3845 (1.91GHz, 2MB cache)
Intel® Atom® DC E3827 (1.75GHz, 1MB cache)
2nd Atom® SC E3815 (1.46GHz, 512k cache)
PCH
Integrated in Intel® Atom® SoC
Memory
2x DDR3L-1333 SO-DIMM, Max 8GB (Non-ECC)
1x DDR3L-1333 SO-DIMM, (IB897-215 only)
BIOS
AMI
Watchdog Timer
256 levels
H/W Monitor
Yes
Storage Device Interface
1x mSATA, 1x MicroSD
Mini Type Slots
2x Mini PCI-E (1x full-size, 1x half-size)
Graphics Controller
Intel® Atom® SoC integrated Gen7 4EUs graphics
Video Output
Supports CRT, DisplayPort, and 24-bit dual-channel LVDS
Ethernet
2x Intel® I210IT Gigabit LAN
I/O Chipset
Nuvoton NCT5523D
Serial Port
1x RS232/422/485 (jumper-less selection)
1x RS232
USB 2.0
1x USB 2.0 on board
2x USB 2.0 via pin header
USB 3.X
1x USB 3.0 on board
Serial ATA
2x SATA III
Audio
Intel® Atom® SoC built-in HD Audio controller + Realtek ALC269Q HD codec w/ class-D amplifier
TPM
N/A
Others
Digital I/O, +9V~ +30V DC-In, iSMART
Dimensions (L x W)
102mm x 147mm (4" x 5.8")
Power Consumption
Intel® Atom® E3845 @ 1.91GHz w/ 2x Transcend 2GB DDR3L-1600
+12V: 1.57A
Operating Temperature
-40°C~85°C (-40°F~185°F)
Storage Temperature
40°C~90°C (-40°F~194°F)
Relative Humidity
90% (non-condensing @60°C)
| | |
| --- | --- |
| IB897-I45 | Intel® Atom® E3845(1.91GHz) 3.5" SBC w/ dual PCI-E GbE LAN, CRT, DisplayPort & LVDS, mSATA, iSMART |
| IB897-I27 | Intel® Atom® E3827(1.75GHz) 3.5" SBC w/ dual PCI-E GbE LAN, CRT, DisplayPort & LVDS, mSATA, iSMART |
| IB897-I15 | Intel® Atom® E3815(1.46GHz) 3.5" SBC w/ dual PCI-E GbE LAN, CRT, DisplayPort & LVDS, mSATA, iSMART |
| IB897-I45P | Intel® Atom® E3845(1.91GHz) 3.5" SBC w/ dual PCI-E GbE LAN, CRT, DisplayPort & LVDS, mSATA, iSMART, pin-header type for power button and LED |
| IB897-I27P | Intel® Atom® E3827(1.75GHz) 3.5" SBC w/ dual PCI-E GbE LAN, CRT, DisplayPort & LVDS, mSATA, iSMART, pin-header type for power button and LED |
| HSIB897-BGA | Heatsink for IB897 |
| HSIB897-BGA-1 | Heat spreader for IB897 |
| IB76-2 | Cable kit w/ USB, COM, power, SATA + power, VGA |