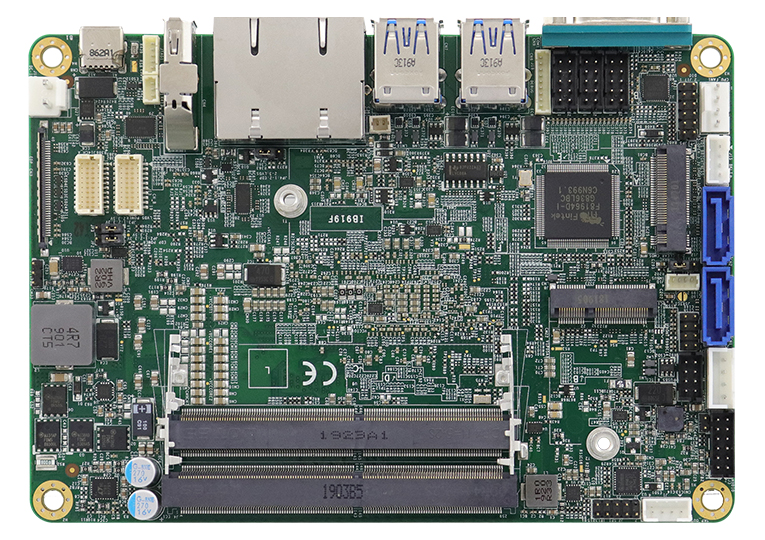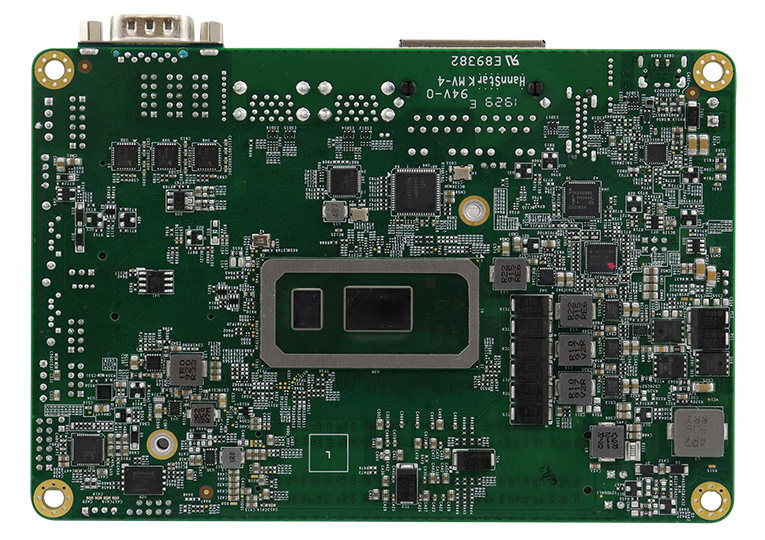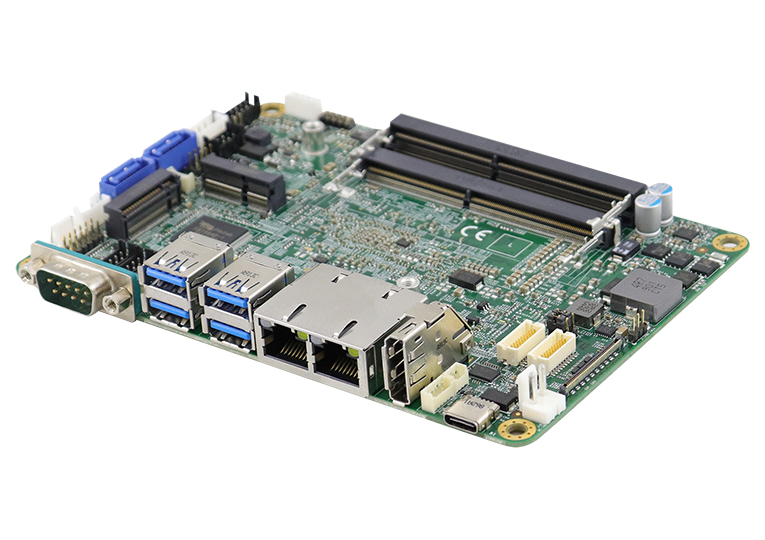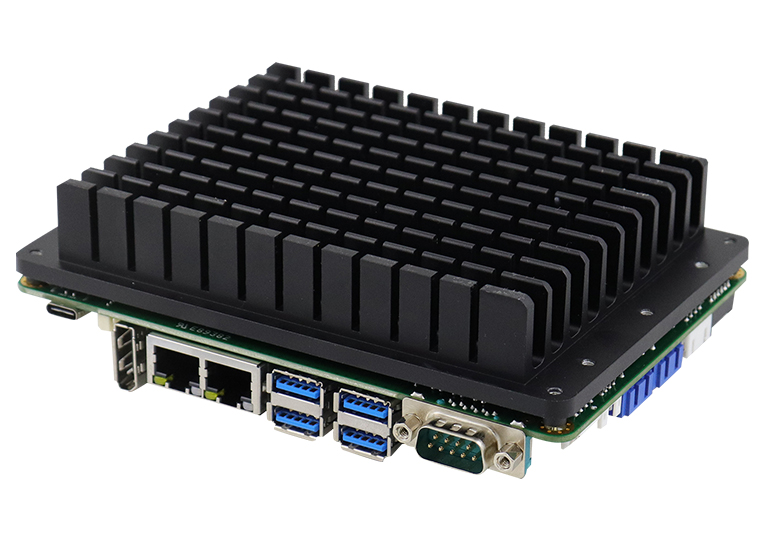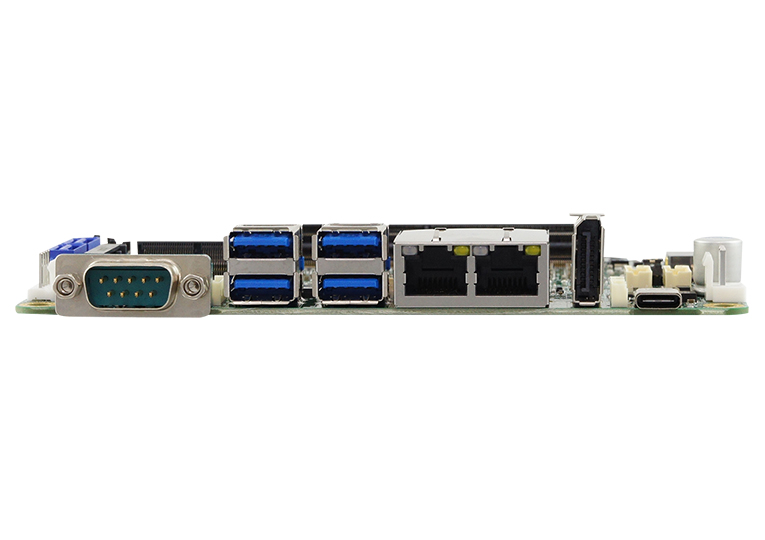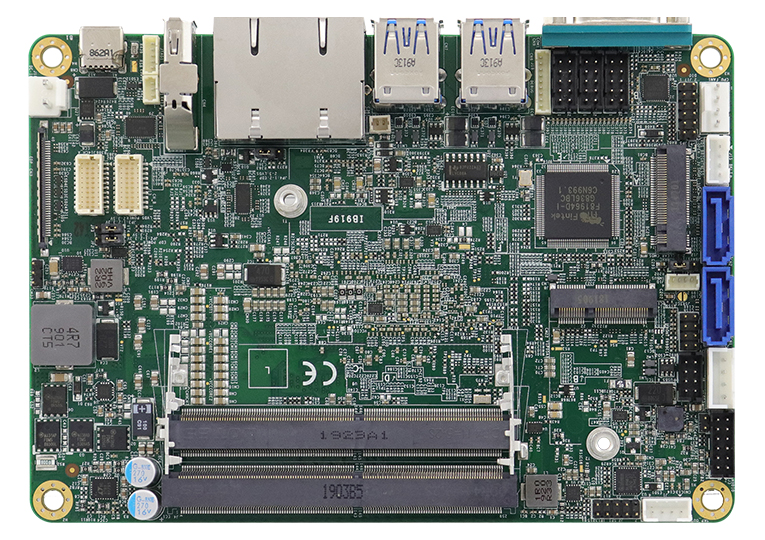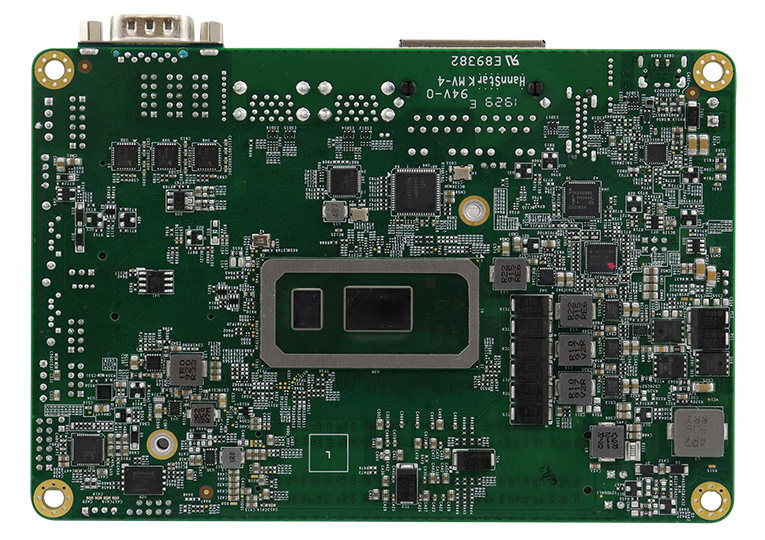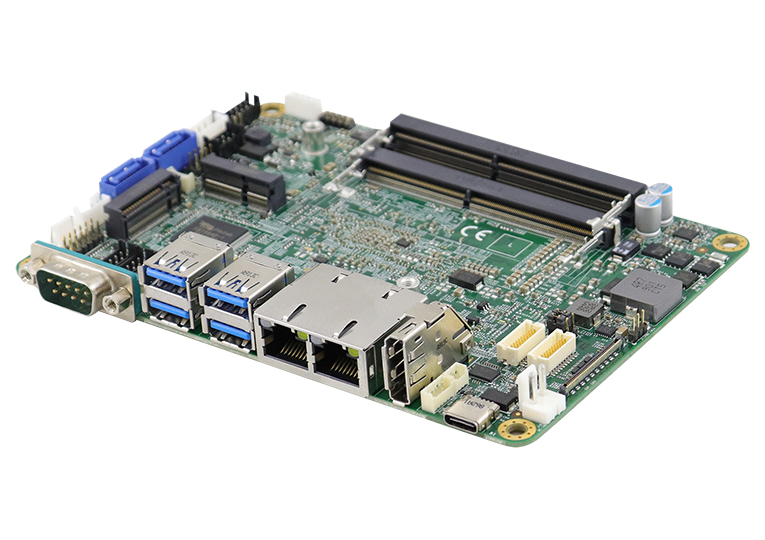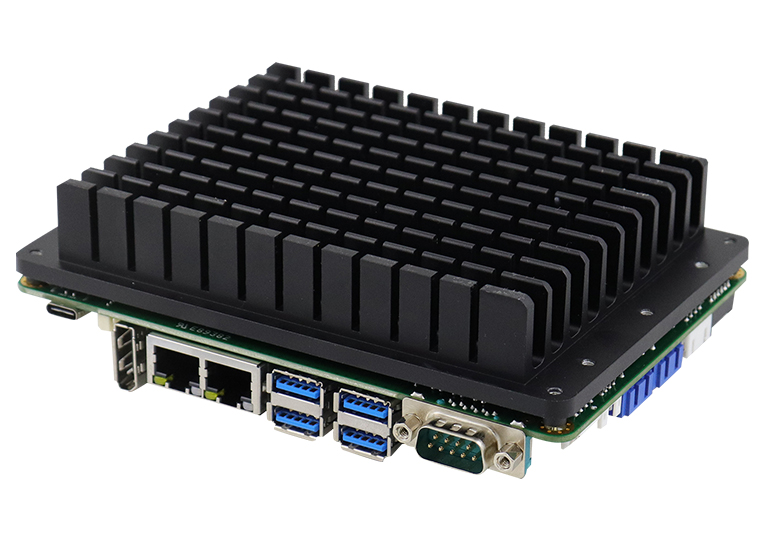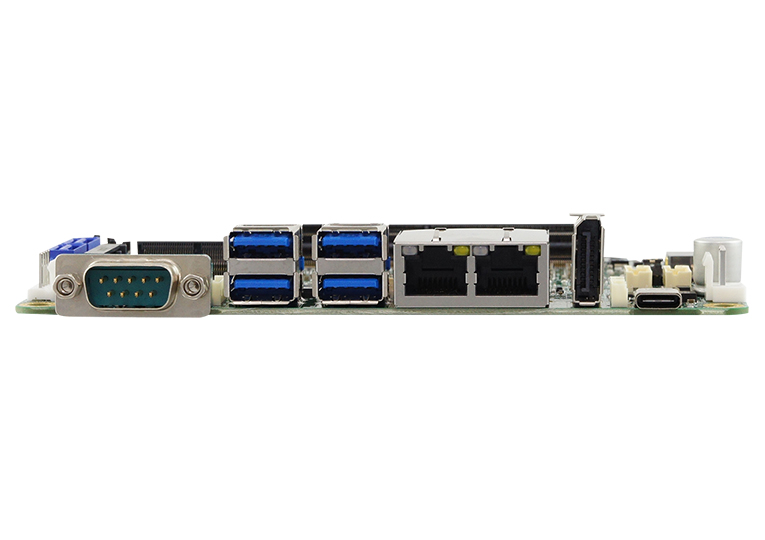 Embedded Computing
IB919
8th Gen Intel® Core™ i7/i5/i3/ Celeron® 3.5" Single Board Computer
Onboard 8th Gen Intel® Core™ i7/i5/i3/ Celeron® processor
2x DDR4-2400 SO-DIMM, Max.32GB, Non-ECC
2x DisplayPort (DP connector & Type C), eDP or 24-bit dual-channel LVDS
2x Intel® PCI-E GbE LAN
Watchdog timer, Digital I/O, TPM (2.0)
2x USB 2.0, 4x USB3.1 (Type A), 1x USB Type-C, 2x SATA III
2x M.2 sockets (M/E-Key)
The IB919 3.5-inch single board computer is based on 8th Generation Intel® Core™ i7/i5/i3 and Celeron® 4000 processors (codenamed Whiskey Lake-U) built on a further refined 14nm++ manufacturing process, offering greater computing and graphics performance than the previous generation. IBASE expands its portfolio of long-term available products with the launch of the IB919 3.5-inch SBC equipped with USB Type-C, 9V~24V wide-range DC input and optimized Thermal Design Power (TDP) of 15W that allows designers to configure systems with performance and low-power requirements. With a 15-year life cycle, the guaranteed availability ideally fits customer demands for their current and upcoming programs in smart retail, transportation, healthcare, and smart factory applications even in large field deployments.
The IB919 comes in two series, the IB919AF (Core™ i7-8665UE, i5-8365UE) and IB919EF (i3-8145UE, Celeron 4305UE), both of which feature up to 32GB DDR4-2400 memory in dual channel and dual Intel Gigabit Ethernet. The board drives up to three independent displays with two DisplayPort (DP & Type C) and eDP or 24-bit dual-channel LVDS interface. Peripheral and external connections are made with a wide selection of interface via two M.2 slots (M2280 & E2230) for NVMe drives and CNVi wireless connectivity, four COM, two SATA III, four USB 3.1 Gen2 (10Gb/s), two USB 2.0 and a USB Type-C connector.

The IB919 provides remote system management with iAMT (11.6), enhanced systems security using a Trusted Platform Module (TPM) chip and extended operating temperature range of 0°C to 60°C with optional thermal solutions and cable kits. It runs on both Windows 10 and Linux Ubuntu operating systems.
CPU
8th Gen Intel® Core™ i7-8665UE (1.7GHz/4.4GHz)
8th Gen Intel® Core™ i5-8365UE (1.6GHz/4.1GHz)
8th Gen Intel® Core™ i3-8145UE (2.2GHz/3.9GHz)
Intel® Celeron® 4305UE (2.0GHz)
PCH
Integrated in 8th Gen Intel® Core™ / Celeron® processor
Memory Types
DDR4-2400 SO-DIMM, Max. 32GB (Non-ECC)
BIOS
AMI
Watchdog Timer
256 levels
H/W Monitor
Yes
Storage Device Interface
1x M.2 (M-Key)
Mini Type Slots
1x M.2 (M2280, Supports NVMe)
1x M.2 (E2230, Supports CNVi)
Graphics Controller
Intel® UHD Graphics 620
Video Output
2x DisplayPort (DP connector & Type-C) eDP or 24-bit dual-channel LVDS
Ethernet
IB919AF series : Intel® I219LM Gigabit LAN PHY
IB919EF series: Intel® I219V Gigabit LAN PHY
Intel® I211AT or I210AT Gigabit LAN (as 2nd LAN)
I/O Chipset
Fintek F81964D-I
Serial Port
1x RS232/422/485 (Jumper-less selection)
3x RS232
USB 2.0
2x USB2.0 (Pin-header)
USB 3.X
4x USB3.1 (Type-A)
1x USB (Type-C)
Serial ATA
2x SATA III
Audio
Builit-in HD with Realtek ALC269 w/ class-D amplifier
TPM
TPM (2.0)
Others
Digital I/O (4-in/4-out),+9 ( Non-tolerance) ~+24V DC-in (+20%), EuP/ErP
Dimensions (L x W)
102mm x 147mm (4" x 5.8")
Power Consumption
Intel® Core™ i7-8665UE 1.70GHz
w/ 2x DDR4-2400 16GB
+12V: 2.25A
Intel® Core™ i3-8145UE 2.20GHz
w/2x DDR4-2400 16GB
+12V: 2.24A
Operating Temperature
0°C~60°C
Storage Temperature
-20°C~80°C
Relative Humidity
90% (non-condensing@60°C)
| | |
| --- | --- |
| IB919AF-8665 | SBC with Intel® Core™ i7-8665UE (1.7GHz/4.4GHz) 3.5" SBC, I211AT GbE LAN + I219LM GbE LAN, USB Type-C (USB 3.1+DP), VGA (DispalyPort + DP or LVDS), 2x SATA III, 4x COM, 2x M.2 (M2280 & E2230), DC-in (9V~24V), Supports iAMT 11.0, TPM (2.0), Optional Heatsink, w/o cable kit, (RoHS) |
| IB919AF-8365 | Intel® Core™ i5-8365UE (1.6GHz/4.1GHz) 3.5" SBC, I211AT GbE LAN + I219LM GbE LAN, USB Type-C (USB 3.1+DP), VGA (DispalyPort + DP or LVDS), 2x SATA III, 4x COM, 2x M.2 (M2280 & E2230), DC-in (9V~24V), Supports iAMT 11.0, TPM (2.0), Optional Heatsink, w/o cable kit, (RoHS) |
| IB919EF-8145 | Intel® Core™ i3-8145UE (2.2GHz/3.9GHz) 3.5" SBC, I211AT GbE LAN + I219V GbE LAN, USB Type-C (USB 3.1+DP), VGA (DispalyPort + DP or LVDS), 2x SATA III, 4x COM, 2x M.2 (M2280 & E2230), DC-in (9V~24V), EuP/ ErP, TPM (2.0), Optional Heatsink, w/o cable kit, (RoHS) |
| IB919EF-4305 | Intel® Celeron® 4305UE (2.0GHz)3.5" SBC, 211AT GbE LAN + I219V GbE LAN, USB Type-C (USB 3.1+DP), VGA (DispalyPort + DP or LVDS), 2x SATA III, 4x COM, 2x M.2 (M2280 & E2230), DC-in ( 9V~24V), EuP/ErP, TPM (2.0), Optional Heatsink, w/o cable kit, (RoHS) |
| HSIB919-A | Heatsink for IB919 |
| HSIB919-1 | Heat spreader for IB919 |
| IB76A-2 | Cable kit w/ USB, COM, Power, SATA + Power |