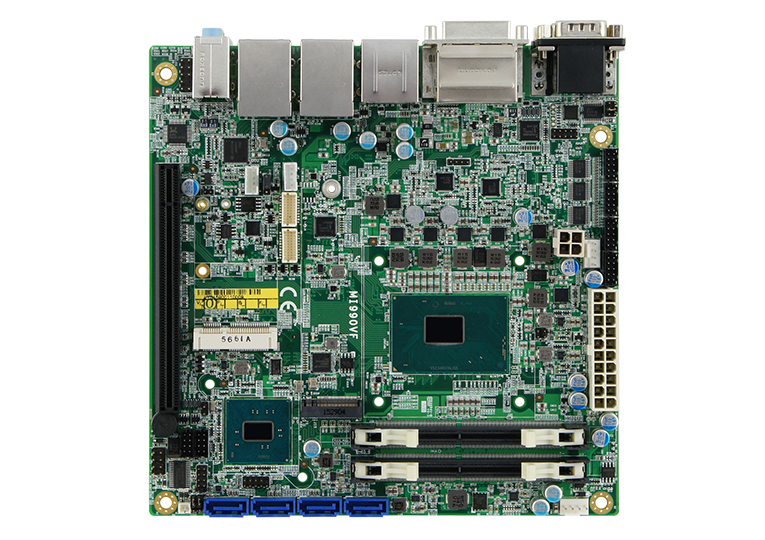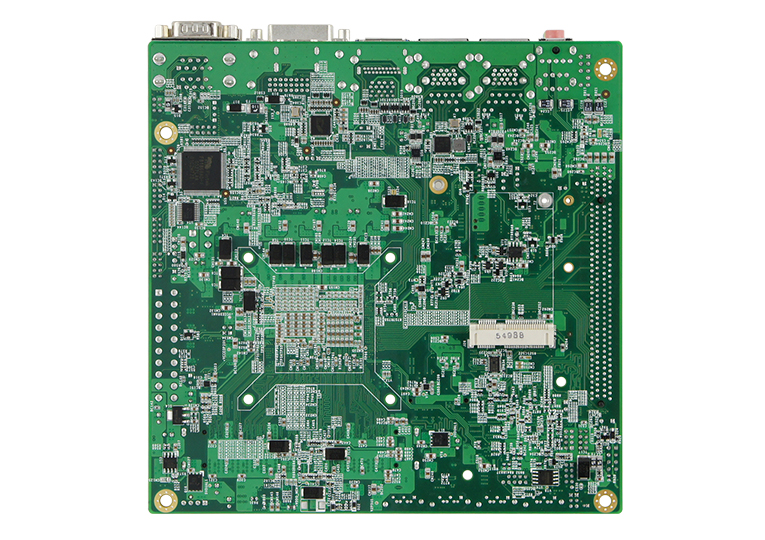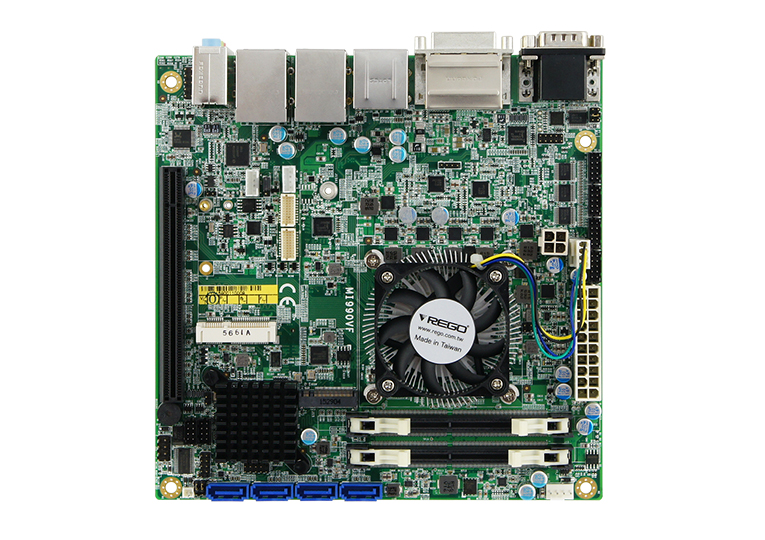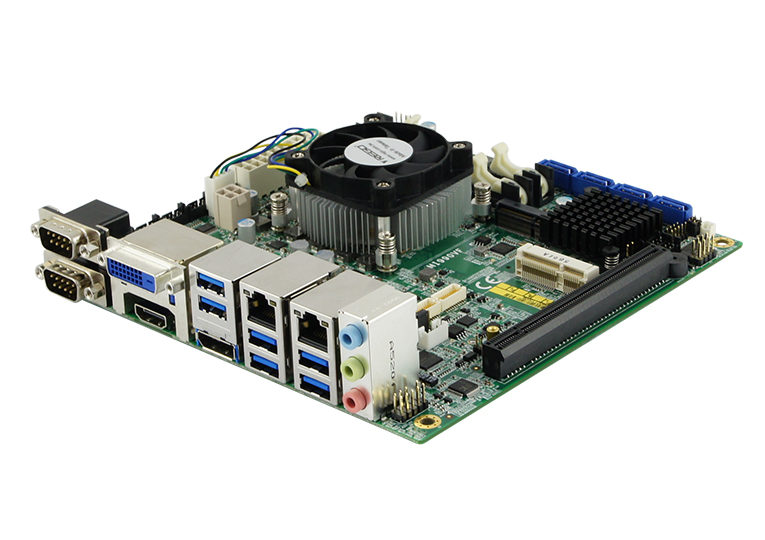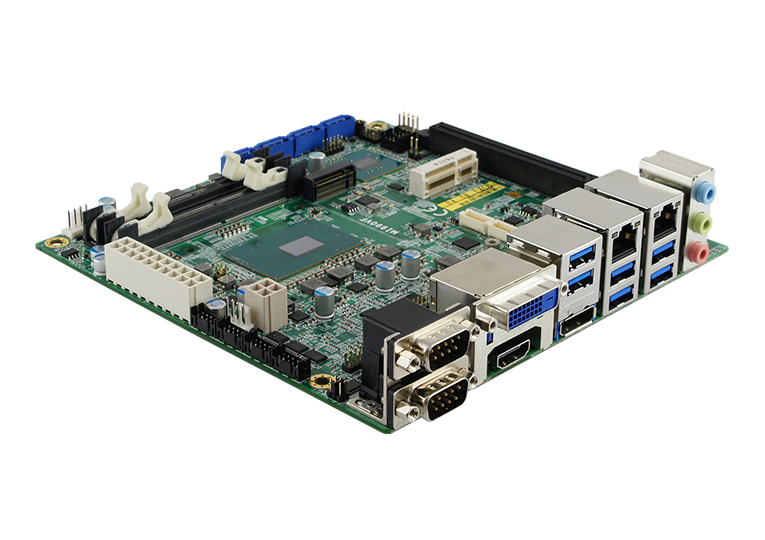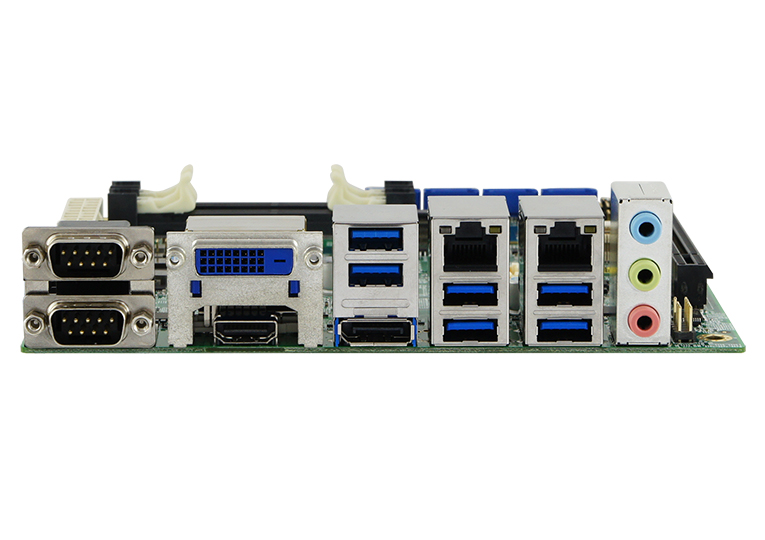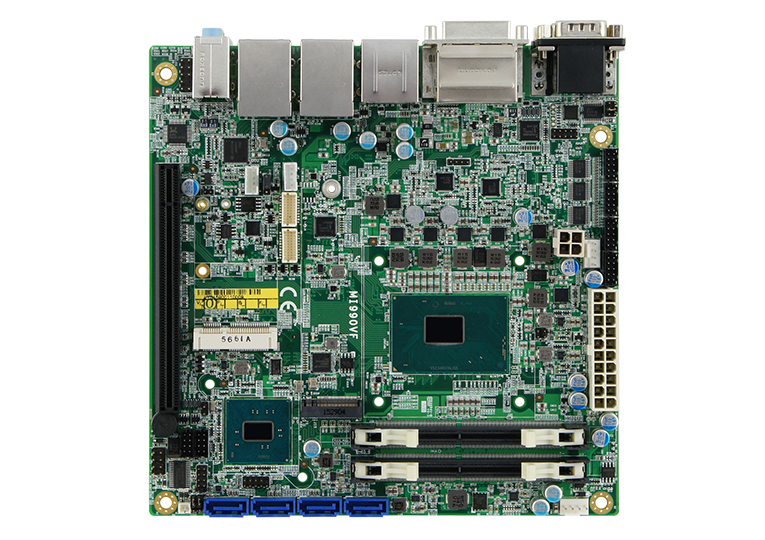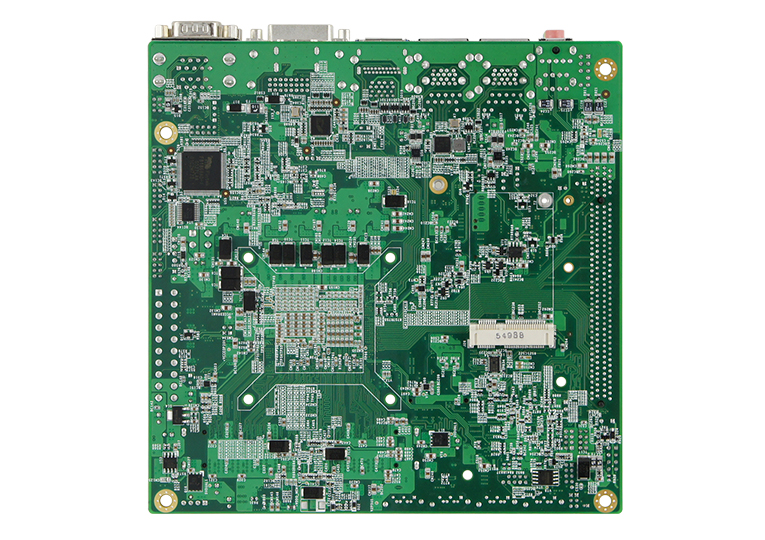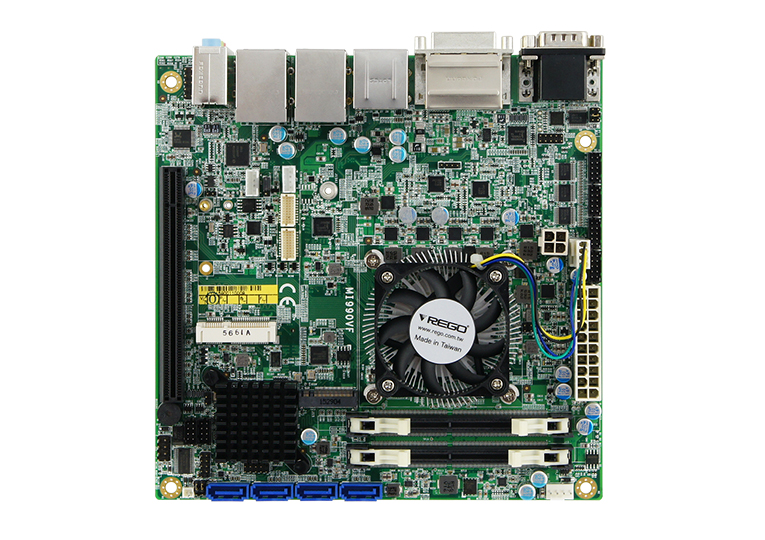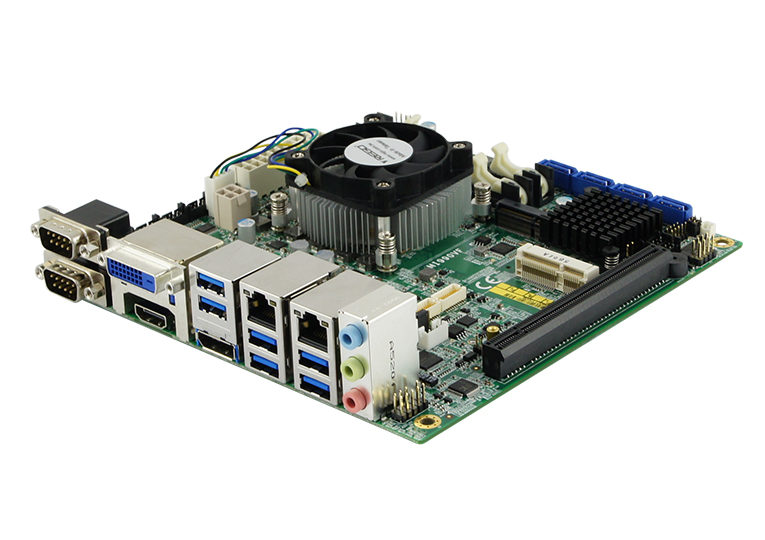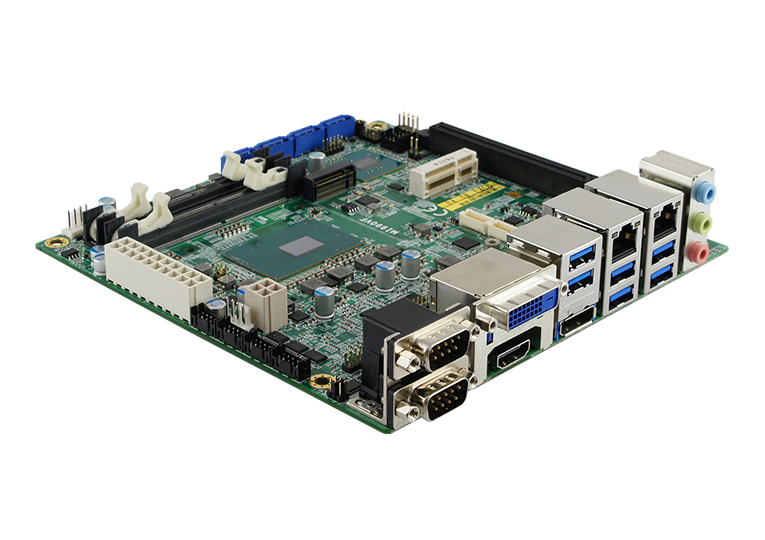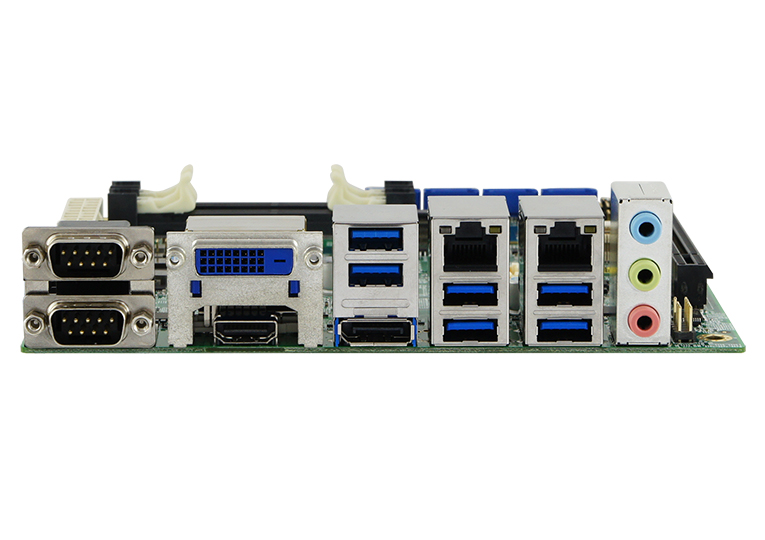 Embedded Computing
MI990
6th Gen Intel® Xeon® E3 / Core™ i7/i5/i3 / Celeron® Mini-ITX Motherboard
Onboard 6th Gen Intel® Xeon® E3 / Core™ i7/i5/i3 / Celeron® QC/DC processors, up to 3.7GHz
2x DDR4 SO-DIMM, Max. 32GB, ECC compatible
Intel® Processor integrated graphics device, supports DVI-D, HDMI (2.0), DisplayPort and 24-bit dual channel LVDS
2x Intel® Gigabit LAN
4x USB 2.0, 6x USB 3.0, 6x COM, 4x SATAIII
1x PCI-E(x16), 2x Mini PCI-E, 1x mSATA, 1x M.2
Watchdog timer, Digital I/O, iAMT (11.0), TPM (2.0), vPro, iSMART 3.0
The MI990 Mini-ITX motherboard is based on the new 6th Gen Intel® Core™ processor family (codename Skylake) manufactured on Intel's 14 nm manufacturing process. It offers accelerated processing performance and leading-edge graphics capability to simultaneously drive up to three independent displays with clear, crisp visuals without a discrete graphics card. With outstanding features that include up to 32GB of fast DDR4 DRAM memory in two SO-DIMM sockets, it is designed for high-end applications in industrial automation, kiosk, digital signage, medical and gaming markets.
MI990 integrates the Intel CM236 / HM170 chipset to deliver performance and to accommodate current I/O technologies for fast connectivity including 4x USB 2.0, 6x USB 3.0, 6x serial ports and 2x/4x SATA III, as well as flexible expansion with 1x PCI-E(x16), 2x Mini PCI-E and 1x M.2 slots. The board supports two Gigabit Ethernet ports and other advanced features, such as iAMT (11.0) for remote management and repair of systems, TPM (2.0) for improved systems integrity, vPro and IBASE's owned iSMART (3.0) that enables energy-efficient systems with various power-saving functions.

There are four MI990 models available in MI990VF and MI990EF series with support for Intel CM236 and HM170 chipsets respectively. The four integrated processors list includes Intel Xeon E3-1505M v5, Intel Core i7-6820EQ, Intel Core i5-6440EQ and Intel Core i3-6100E.

CPU Socket
BGA1440
CPU
6th Gen Intel® Xeon® E3 / Core™ i7/i5/i3 / Celeron® QC/ DC processors, up to 3.7GHz
PCH
MI990VF series: Intel® CM236 PCH
MI990EF series: Intel® HM170 PCH
Memory
2x DDR4 SO-DIMM, Max. 32GB (supports ECC by CPU SKUs)
BIOS
AMI
Watchdog Timer
256 levels
H/W Monitor
Yes
Storage Device Interface
1x mSATA via Mini PCI-E (Thru SATA III)
1x M.2 slot (Thru SATA III & PCI-E)
Expansion Slots
1x PCI-E (x16)
Mini Type Slots
2x Mini PCI-E
1x M.2
Graphics Controller
6th Gen Intel® Xeon® / Core™ i7/ i5/ i3 / Celeron® processor integrated
Video Output
Supports DVI-D, HDMI (2.0), DisplayPort and 24-bit dual-channel LVDS
Ethernet
MI990VF series: Intel® I219LM Gigabit LAN PHY
MI990EF series: Intel® I219V Gigabit LAN PHY
Intel® I211AT or I210AT Gigabit LAN (as 2nd LAN)
I/O Chip
Fintek F81866AD-I
Serial Port
5x RS232
1x RS232/422/485 (jumper-less selection)
USB 2.0
4x USB 2.0 via pin-header
USB 3.X
6x USB 3.0 on board
Serial ATA
MI990VF series: 4x SATA III
MI990EF series: 2x SATA III
Audio
Intel® CM236 / HM170 PCH built-in HD audio + Realtek ALC888S codec
TPM
TPM (2.0)
Others
Digital I/O(4-in/4-out), RAID, iAMT (11.0), iSMART
Dimensions (L X W)
170mm x 170mm (6.7" x 6.7")
Power Consumption
Intel® Core™ i5-6400EQ 2.4GHz w/ 2x 8GB DDR4-2133
+12V: 2.84A; +5V: 1.45A; +5VSB: 0.058A; +3.3V: 0.52A
Operating Temperature
0°C~60°C (32°F~140°F)
Storage Temperature
-20°C~80°C (-4°F~176°F)
Relative Humidity
90% (non-condensing @60°C)
| | |
| --- | --- |
| MI990VF-X28E | BGA1440 Intel® CM236/ Xeon® E3-1505M v5(2.8GHz) Mini-ITX motherboard w/ DVI-D, HDMI (2.0), DisplayPort, LVDS, dual Gigabit LAN, RAID, iAMT (11.0), TPM (2.0), vPro, iSMART (3.0), CPU cooler on board |
| MI990VF-6820E | BGA1440 Intel® CM236/ Core™ i7-6820EQ(2.8GHz) Mini-ITX motherboard w/ DVI-D, HDMI (2.0), DisplayPort, LVDS, dual Gigabit LAN, RAID, iAMT (11.0), TPM (2.0), vPro, iSMART (3.0), CPU cooler on board |
| MI990VF-6440E | BGA1440 Intel® CM236/ Core™ i5-6440EQ(2.7GHz) Mini-ITX motherboard w/ DVI-D, HDMI (2.0), DisplayPort, LVDS, dual Gigabit LAN, RAID, iAMT (11.0), TPM (2.0), vPro, iSMART (3.0), CPU cooler on board |
| MI990EF-6100E | BGA1440 Intel® HM170/ Core™ i3-6100E(2.7GHz) Mini-ITX motherboard w/ DVI-D, HDMI (2.0), DisplayPort, LVDS, dual Gigabit LAN, RAID, EuP/ErP compliant, iSMART (3.0), CPU cooler on board |