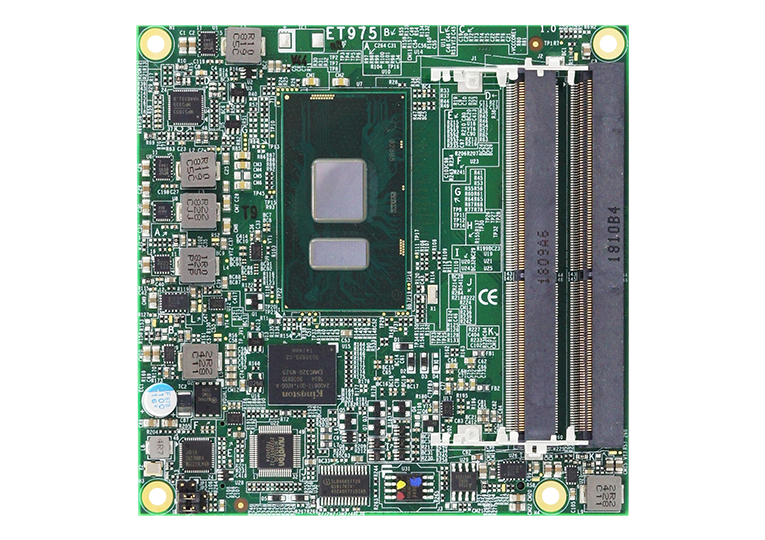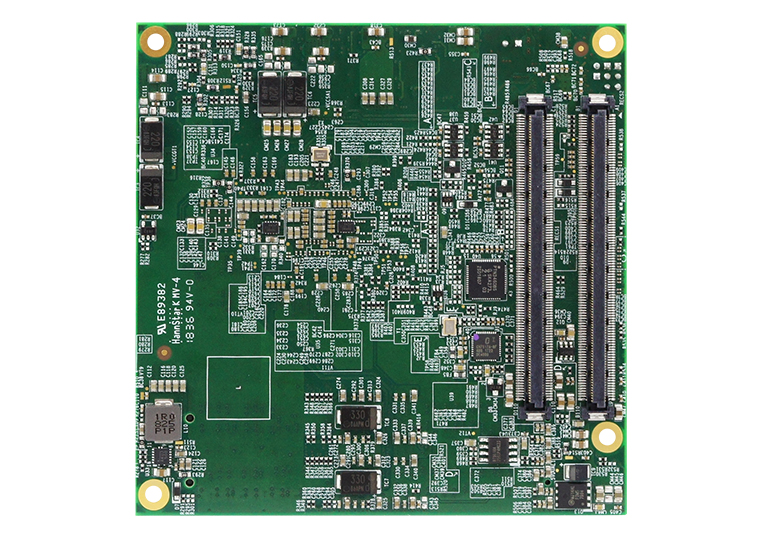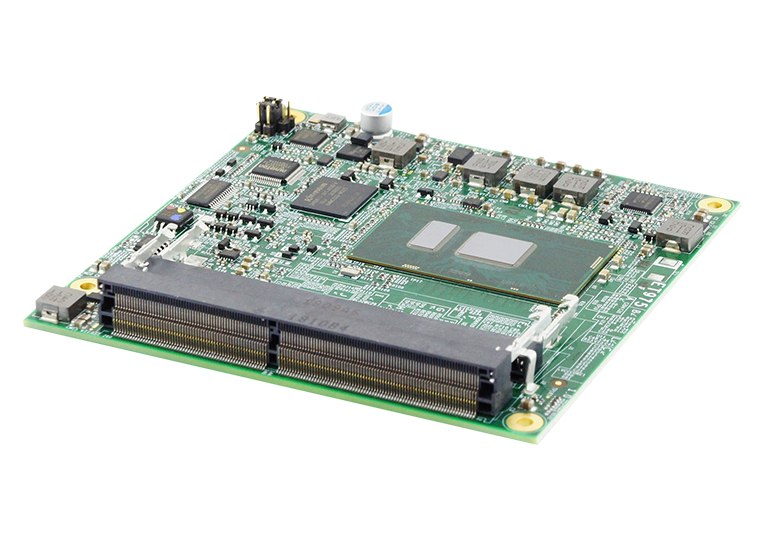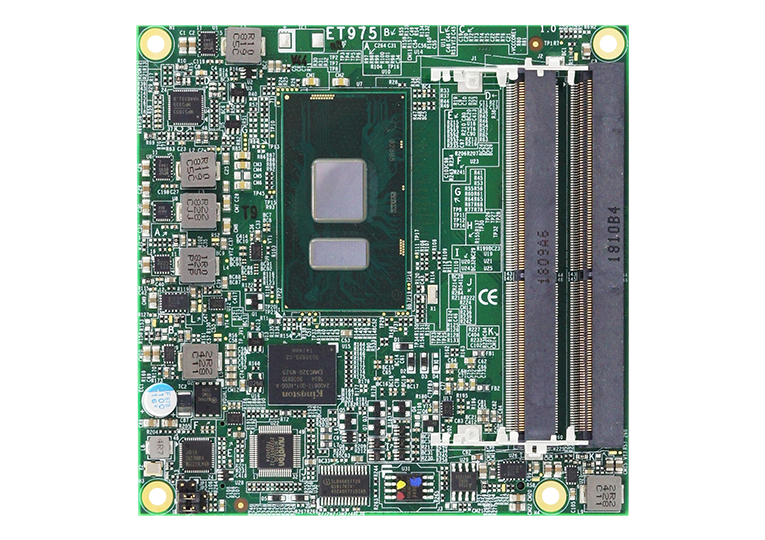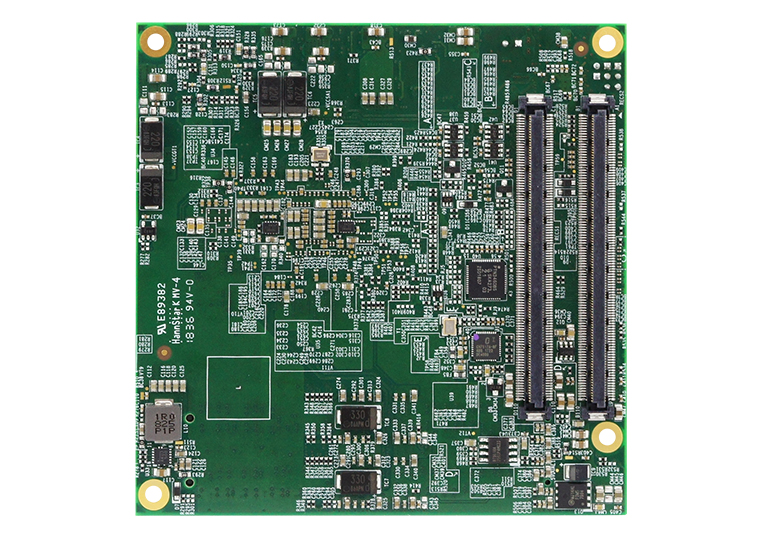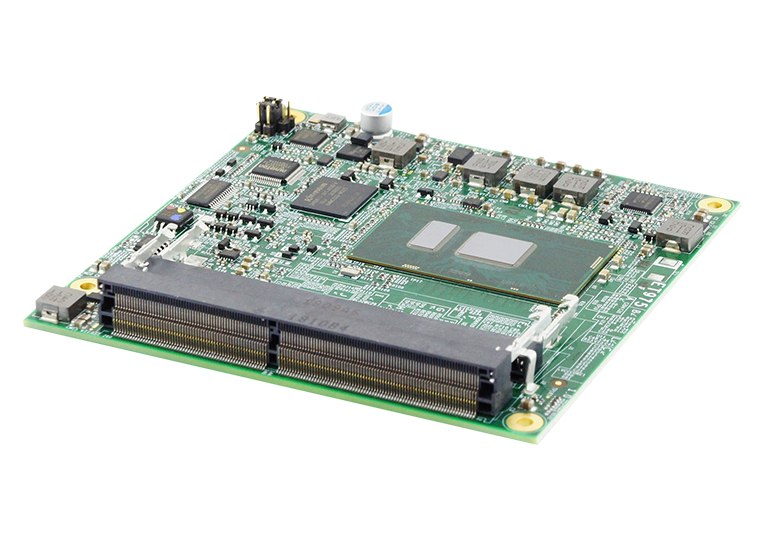 Embedded Computing
ET975
7th Gen Intel® Core™ U-Series COM Express Type 6 CPU Module
Onboard 7th Gen Intel® Core™ i7/i5/i3 processors
2x DDR4 SO-DIMM, Max. 32GB
Supports 2x DDI port or DDI + VGA
1x Intel® PCI-E GbE LAN
Watchdog timer
8x USB 2.0, 4x USB 3.0, 2x COM, 2x SATAIII
4x PCI-E(x1), 1x PCI-E(x4)
Supports TPM (2.0), eMMC5.0 (optional)
The ET975 COM Express Computer-on-Module is based on the ultra-low voltage 7th Generation Intel® Core™ i7/i5/i3 processor (Kaby Lake-U) produced using a 14 nanometer manufacturing process technology. Characterized with product longevity, performance computing and low power consumption, the ET975 is suitable for applications found in factory automation, kiosk, communications, medical imaging and digital signage environments.
The ET975 comes with features that provide high performance and reliable operation across a wide range of industrial and embedded applications. The ET975 COM Express Type 6 compact module is equipped with two DDR4-2133 SO-DIMM sockets with a 32GB memory capacity, operating temperature range from 0°C to +60°C, and Intel® Gen 9 HD low-power integrated graphics on the SoC providing 4K resolution via popular display interfaces such as DVI, HDMI, DisplayPort and LVDS. A rich set of standard I/Os available are one gigabit Ethernet, four USB 3.0 and eight USB 2.0 ports, two serial ports and two SATA III ports.

The board supports the IBASE IP413 COM Express ATX carrier board with Type 6 pin-out and I/Os for 24-bit dual-channel LVDS, four USB 3.0, four USB 2.0, and HD audio with Realtek ALC662 codec. The module also comes with an integrated Trusted Platform Module (TPM 2.0) security feature, Digital I/O, watchdog timer, as well as two COM and two SATA III ports. Expansion is available with four PCI-E(1x) and one PCI-E(4x) supporting PCIe Gen 3 that allows faster connection on add-on cards and peripherals. Optional features include an embedded MultiMediaCard (eMMC) storage and a heat spreader. Dimensions of the extremely compact ET975 are 95mm x 95mm.
CPU
Onboard 7th Gen Intel® Core™ U-Series processors
PCH
N/A
Memory
2x DDR4 SO-DIMM, Max. 32GB
BIOS
AMI
Watchdog Timer
256 levels
H/W Monitor
Yes
Storage Device Interface
eMMC 5.0 up to 32GB (optional)
Expansion Slots
4x PCI-E(x1), 1x PCI-E(x4)
Graphics Controller
7th Gen Intel® Core™ U-Series processor integrated graphics, Supports DVI, HDMI, DisplayPort, LVDS
Video Output
24-bit dual-channels LVDS on Carrier Board
Ethernet
Intel® I219LM LAN PHY
I/O Chip
Nuvoton NCT5523D on board (supports Tx/Rx only)
Serial Port
2x COM port (Tx/Rx only))
USB 2.0
8x USB 2.0 via baseboard
USB 3.X
4x USB 3.0 via baseboard
Serial ATA
2x SATA III via Carrier Board
Audio
7th Gen Intel® Core™ U-Series processor built-in HD audio + Realtek ALC662 or ALC888S codec
TPM
TPM (2.0)
Others
N/A
Dimensions (L X W)
95mm x 95mm (3.74" x 3.74")
Power Consumption
Intel® i7-7600U, 2.8GHz w/ 8GB DDR4-2133
+12V: 3.47A; +5V: 1.4A
+3.3V: 0.33, +5[removed] 0.10A
Operating Temperature
-20°C~60°C (-4°F~140°F)
Storage Temperature
-20°C~80°C (-4°F~176°F)
Relative Humidity
10% ~ 90% (non-condensing)
ET975K-I7
COM Express (Type 6) CPU Module w/ Intel® Core™ i7-7600U, DDR4 dual-channel memory, 2x DDI
ET975K-I7V
COM Express (Type 6) with Intel® Core™ i7-7600U, DDR4 dual channel memory, 1x DDI+ 1x VGA
ET975K-I5
COM Express (Type 6) with Intel® Core™ i5-7300U, DDR4 dual channel memory, 2x DDI
ET975K-I5V
COM Express (Type 6) with Intel® Core™ i5-7300U, DDR4 dual channel memory, 1x DDI+ 1x VGA
ET975K-I3 (MOQ)
COM Express (Type 6) with Intel® Core™ i3-7100U, DDR4 dual channel memory, 2x DDI
ET975S-I7V
COM Express (Type-6) CPU Module w/ Intel® Core™ i7-6600U,DDR4 dual-channel memory, 1x DDI+1x VGA
*(S) means with Realtek ALC888S codec
ET975K-I7
COM Express (Type-6) CPU Module w/ Intel® Core™ i7-7600U,DDR4 dual-channel memory, 2x DDI
HSET975-A
Heatsink with Fan for ET975
HSET975-1
Heat Spreader for ET975