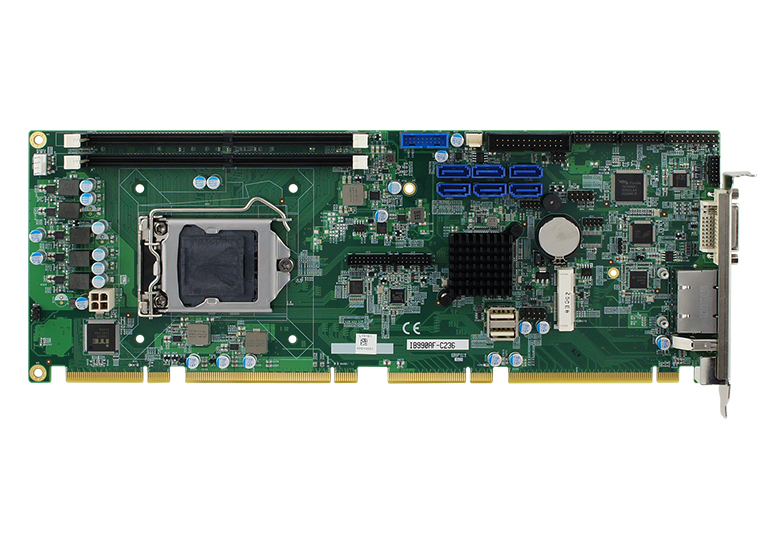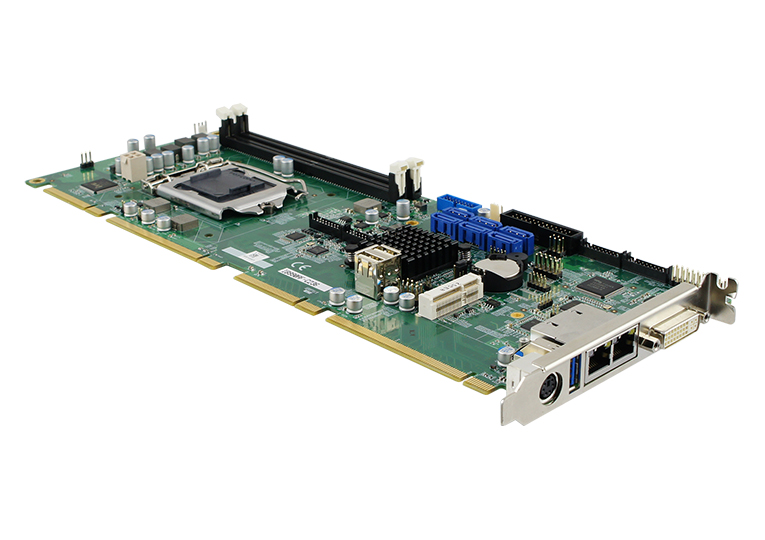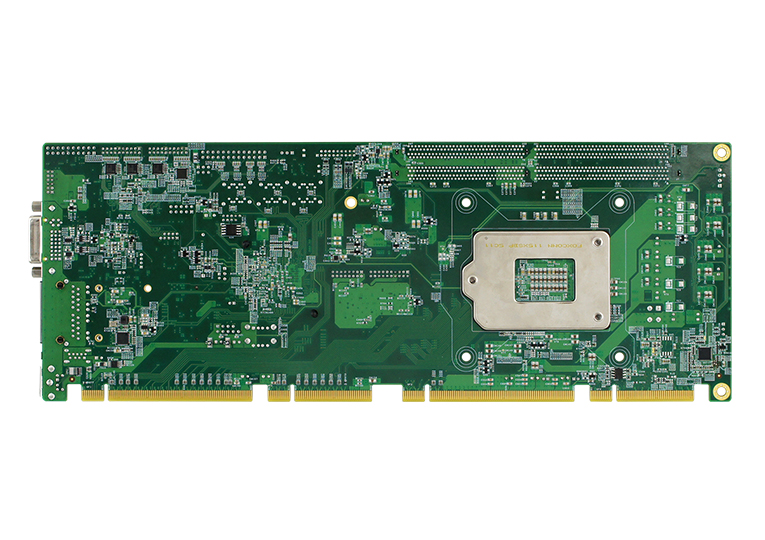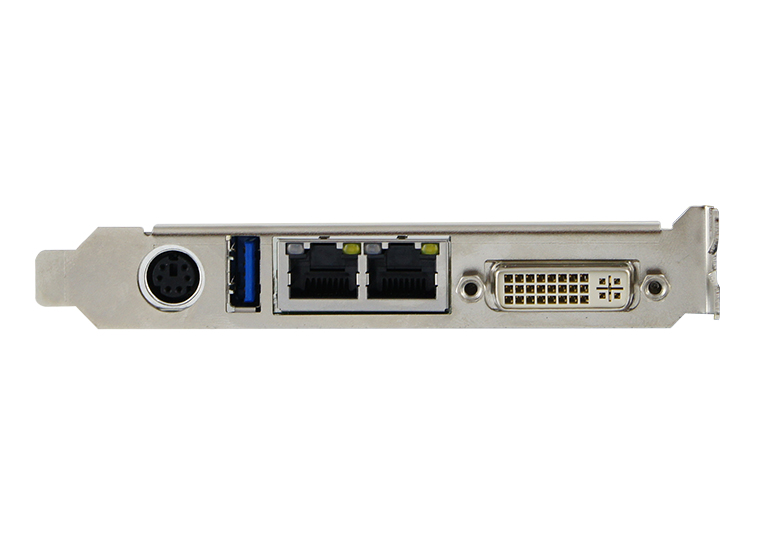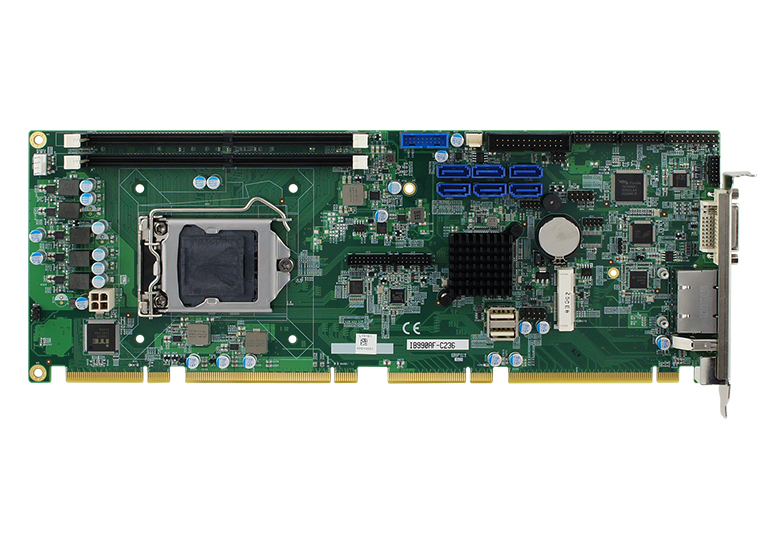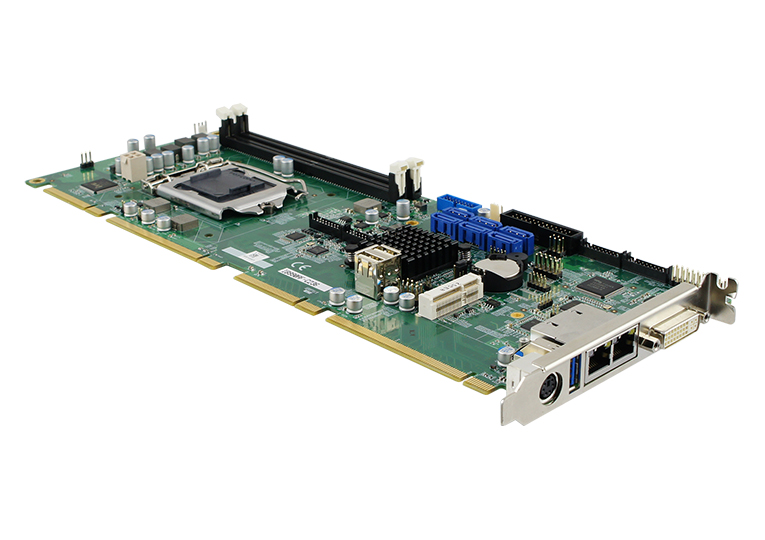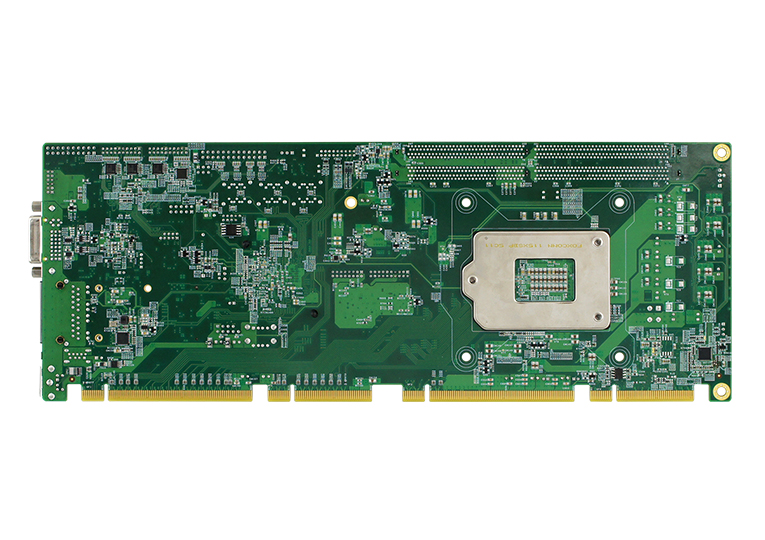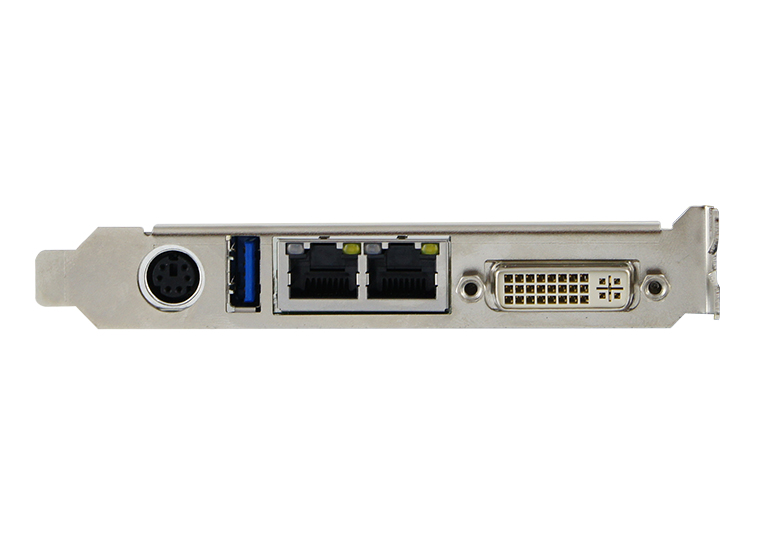 Embedded Computing
IB990
7th/6th Gen Intel® Xeon® E3 / Core™ i7/i5/i3 / Pentium®/ Celeron® PICMG 1.3 with Intel® C236/Q170 PCH Full-Size CPU Card
7th/6th Gen Intel® Xeon® E3 / Core™ i7/i5/i3 / Pentium® / Celeron® QC/DC Processor, up to 4.0 GHz
2x DDR4- 2133 DIMM, Max. 32GB, ECC compatible
Intel® Processor integrated Graphics device, supports DVI-I, CRT, DVI-D
2x Intel® PCI-E Gigabit LAN
3x USB3.0, 2x USB2.0, 4x COM, 6x SATA III
1x Mini PCI-E slot
Watchdog timer, Digital I/O, iAMT(11.0)
The IB990 PICMG 1.3 full-size CPU card supports the latest 7th/6th Gen Intel Xeon®/Core™ i7/i5/i3 processors with speeds up to 4.0GHz. Based on the chipset family formerly known as Skylake, Intel® C236 and Q170 Express chipsets, the high-performance IB990 SBC is built with two DIMM sockets to support DDR4 2133 MHz memory modules with up to 32GB in total and six superfast SATA III ports featuring RAID 0/1/5/10 and 6 Gb/s speed.
As a perfect solution for control systems in factory automation and other industrial applications, IB990 is designed for compute, data and graphics intensive applications and enables up to three independent displays via DVI-I, VGA and DVI-D interface. This long-life single board computer incorporates a rich set of I/O connectivity including two Gigabit Ethernet, four COM, two USB 2.0 and three USB 3.0 ports, plus a Mini PCI-E expansion socket for optional wireless modules. Additionally, the IB990 takes advantage of Intel® AMT 11.0 for remote management and powering-on functionalities.

IB990 comes in two models: IB990AF-C236 with C236 / 6x SATAIII and IB990AF with Q170 / 4x SATA III / TPM 1.2. IBASE also provides PICMG 1.3 backplanes compatible with the IB990.

CPU Socket
LGA1151
CPU
7th/6th Gen Intel® DT Xeon® E3 & Core™ i7/i5/i3 / Pentium®/ Celeron® QC/DC processors
PCH
IB990AF-C236: Intel® C236 PCH
IB990AF: Intel® Q170 PCH
Memory
2x DDR4-2133 DIMM, Max 32GB (ECC compatible)
BIOS
AMI
Watchdog Timer
256 levels
H/W Monitor
Yes
Storage Device Interface
N/A
Expansion Slots
4x PCI, 4x PCI-E (x1) or 1x PCI-E (x4)
1x PCI-E (x16) from backplane
Mini Type Slots
1x Mini PCI-E
Graphics Controller
7th/6th Gen Intel® Core™ DT Xeon® E3 & Core™ i7/i5/i3/ Pentium®/ Celeron® integrated graphics
Video Output
Supports DVI-I, VGA, DVI-D
Ethernet
Intel® I219LM Gigabit LAN PHY
Intel® I211AT or I210AT Gigabit LAN( as 2nd LAN)
I/O Chip
1x RS232/422/485 (jumperless selection)
3x RS232, 1x LPT
Serial Port
Fintek F81846AD-I
USB 2.0
2x USB 2.0 (Type-A)
1x USB 2.0 via Mini PCI-E
USB 3.X
3x USB 3.0 on board
Serial ATA
6x SATA III
Audio
Intel® C236 PCH built-in HD audio controller + Realtek ALC888S codec
TPM
TPM (1.2) (IB990VF)
Others
Digital I/O(4-in/4-out), RAID, iAMT (11.0), TPM (1.2)(IB990AF only)
Dimensions (L X W)
338mm x 126mm (13.31" x 4.96")
Power Consumption
Intel® Xeon® processor E3-1225 v5 w/ 2x DDR4-2133 4GB +12V: 5.67A; +5V: 1.88A; +5VSB: 0.09A; +3.3V: 0.08A
Operating Temperature
0°C ~ 60°C(32°F ~ 140°F)
Storage Temperature
-20°C ~ 80°C(-4°F ~ 140°F)
Relative Humidity
90%(non-condensing @60°C)
IB990AFS-C236
LGA1151 C236 PICMG 1.3 Full-Size CPU Card w/ DVI-I, VGA, DVI-D, dual Gigabit LAN, iAMT (11.0), 6x SATA III
*(S) means with Realtek ALC888S codec

IB990AFS
LGA1151 Q170 PICMG 1.3 Full-Size CPU Card w/ DVI-I, VGA, DVI-D, dual Gigabit LAN, iAMT (11.0), 4x SATA III
*(S) means with Realtek ALC888S codec